Wagner, Tristan und Isolde
Real Orquesta Sinfónica de Sevilla, Coro de la Asociación de A.A. de la Maestranza
Conductor: Pedro Halffter
Teatro de la Maestranza de Sevilla 25.5.2009 (JMI)

Production from Opera de Roma

Direction: Pierluigi Pier'Alli
Sets and Costumes: Pierluigi Pier'Alli
Lighting: Franco Marri and Pierluigi Pier'Alli

Cast:
Tristan: Robert Dean Smith
Isolde: Evelyn Herlitzius
King Mark: Reinhard Hagen
Brangaene: Iris Vermillion
Kurwenal: Martin Gantner
Melot: Mirko Janiska
Shepherd: Gustavo Peña
Pilot: Javier Galán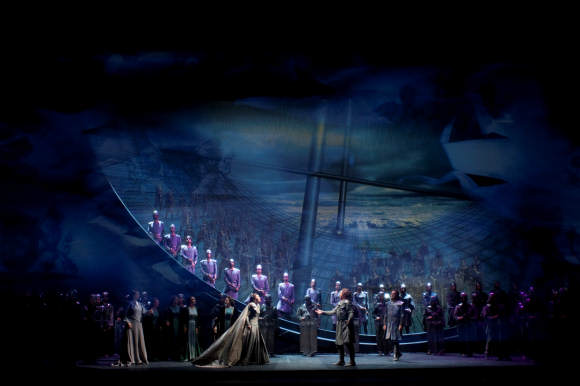 For the first time in more than five years, the Seville season has attained musical and artistic heights far beyond those we have come to expect. Let us hope that this result marks a new beginning for the Teatro de la Maestranza.

The final opera of the season was a rather mixed production of the Wagner masterpiece, Tristan und Isolde which was premiered in the autumn of 2006 in Rome (with a very mediocre vocal cast) and has all the hallmarks of the Italian stage director, Pier Luigi Pier'Alli. This veteran director has always produced attractive spectacles from an aesthetic perspective, but his direction has never been truly outstanding. On this occasion Pier'Alli was responsible for the sets, costumes, video projection and even, in part, the lighting as well as the stage direction and production concept but there was no particularly original interpretation of the work, simply a production narrating the love story and focusing the action on the protagonists.

Tristan und Isolde's exceptional music has to direct audience attention to the title's protagonists, together with King Mark in his monologues and to Brangaene to a lesser extent. It is the most intimate of Richard Wagner's operas, since all the drama is 'inside' the characters or perhaps does not exist at all. Pier'Alli understands the work in this way and eliminates almost everything else that goes beyond this personalised drama. The sets, beautiful and figurative, are deliberately minimised to evoke the spaces of the libretto, for example the love duet of Act II, has a darkening stage and some inspired lighting showing the lovers at the front.

The problem with this kind of production is that it works better or worse depending on the interpretative capacity of the singers. In this case, things did work - more or less. The few moments of stage movement were resolved well enough, but with mixed success in some instances. The arrival in Cornwall was well done, the appearance of King Mark and Melot slightly less so, and the final sword fight far from convincing. It would have been better not to show the fight on stage at all. In sum, this was an attractive production from an aesthetic perspective, but one that might seem rather static for a public unfamiliar with the opera. Personally, I liked it.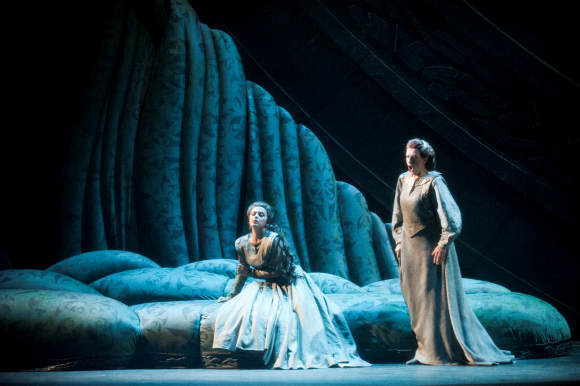 Isolde (Evelyn Herlitzius) and Brangaene (Iris Vermillion)


The musical direction by Pedro Halffter was quite interesting and promising. It was not, obviously enough, the reading of an experienced Wagner conductor, but the work of a young maestro, probably coming to this opera for the first time. Halffter deserves high praise for the performance he got from his orchestra but the music sometimes felt short on emotion and inspiration. The best part of his reading was Act I, while things became a touch breathless in Act II - although the last part of the love scene there was perhaps the most inspired moment. One realizes that Mr Halffter must have worked very hard at rehearsals and the fruits of his preparation were there to be heard. Although he needs to deepen and internalise the score further to achieve a truly great interpretation of this work, this was a very promising performance, but without the same level of emotion that Ingo Metzmacher achieved in Zurich last January. See review.

The vocal casting was totally dominated by the Isolde of the German soprano Evelyn Herlitzius, one of the best singers today in this role. Her performance was an excellent demonstration of vocal power and interpretative intensity, qualities that have always been associated with this singer, whose performances must not be taken in parts, but in their totality. She was splendid in the first act in which, by contrast, all the other characters seemed like toys before her strength and power. In the second act she was perhaps rather short of lyricism, but she was excellent in the Liebestod, although she does not die in this production (at least, not before the curtain finally comes down).

Robert Dean Smith was Tristan and once again the American tenor produced his usual high standard of performance. Amongst his virtues can be numbered the fact that he is one of the few Tristans singing nowadays who can sing the role without barking, unlike so many of his colleagues. On the downside however, the biggest problem is that he is a too light a tenor for the role. The voice is very pleasant, but lacks weight and there are sometime problems with projection. With the current lack of heroic tenors however, he remains a valid alternative, although still not truly ideal.

The rest of the cast offered more shade than light, and one does not understand certain casting choices. Reinhard Hagen had very little to offer as King Mark. I know that René Pape and Matti Salminen are not often available, but there must be other very valid alternatives. Hagen lacks power and nobility, and has problems with his upper range. King Mark is a pivotal role in this opera and should have been much better cast.

Iris Vermillion was a weak Brangaene. This role demands a true mezzo soprano and she is not exactly that because Isolde had a much more impressive bottom register than hers. She passed without pain or glory as an interpreter and her voice was too small for Seville's large theatre.

Martin Gantner was a good Kurwenal and although the voice sounded too light in this house, he is unequestionably a good singer. It was a surprise to have a tenor in the role of Melot. Mirko Janiska, has a pleasant but rather small voice though I feel that this character demands a darker voice. Gustavo Peña was also a very good Shepherd.

The house was crowded and the audience showed their approval by dedicating cheers and ovations to Evelyn Herlitzius. Pedro Halffter and the Orchestra were also very warmly applauded, as was Robert Dean Smith. The rest of the cast received no more than the applause demanded by courtesy.

José M Irurzun

Pictures courtesy of Teatro de la Maestranza de Sevilla